Medical Missions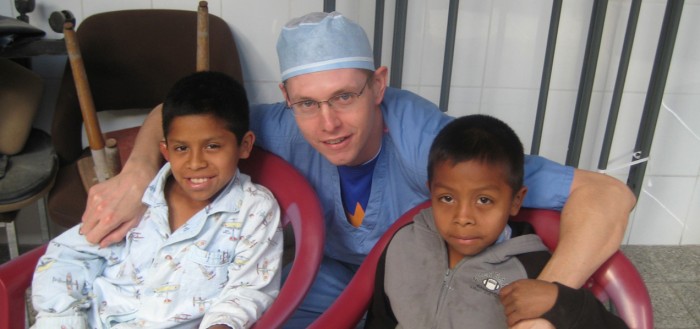 "Part of my initial motivation to enter the medical field stemmed from a desire to make a contribution to those, both in this country and abroad, without the opportunities that many of us enjoy."
Dr. Scott K. Thompson
With the expansion of technologies that bring the world to our living rooms in an instant, society has become increasingly aware of the plight of individuals in developing countries. Ecuador is one such country. Many people in Ecuador and Guatemala are very poor and have minimal access to medical care. Furthermore, the number of children born with congenital defects is higher in Ecuador than other countries.
My desire to make a contribution through the sharing of my training and skills with others is realized in part each year as I join in Ecuador with experts in the field of facial plastic surgery from around the country. Our objective is to deliver needed surgical care to as many children and adolescents suffering from physical deformities as we can. We typically spend one week each year in Ecuador, where we work long hours each day in order to meet the needs of the throngs of children waiting for us when we arrive. Following our return to the United States, excellent physicians living in Ecuador attend to the post-operative needs of the patients and prepare others for our next mission.
A number of years ago, one of the founders of these medical missions, Dr. Vito C. Quatela from Rochester, New York, established a foundation dedicated to the realization of these goals. The execution of an international medical mission requires a tremendous amount of medical resources, equipment, organization, and dedicated service hours from physicians, nurses, operating room personnel, and other volunteers. I've been traveling yearly with this organization Helping Give Children Smiles, HUGS,  as well as the organization MMFC (Medical Missions For Children) for a number of years now. You can visit their websites to learn more.
The services we offer help children develop into confident, secure and responsible individuals free from their congenital conditions. One such condition we treat frequently is Microtia, a congenital deformity where the pinna (external ear) is underdeveloped. Currently, Ecuador, Guatemala, and Vietnam have a much higher incidence of Microtia per live births.
I would invite you, if you are in such a position, to consider making a contribution to this worthy cause. Each contribution, no matter how small or large, has the potential to help a less fortunate child. Please ask for information at your next visit or visit www.helpusgivesmiles.org and/or www.mmfc.org.