Rhinoplasty Revision by Dr. Thompson
Individual results may vary.
Case ID: 0421
Prev
View
Side:
Front: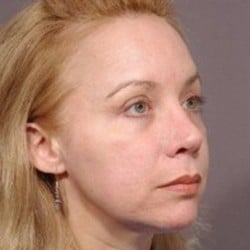 Oblique Right:
Next
View
This patient underwent rhinoplasty many years ago and was left with a "pollybeak" deformity, or an abnormal bump immediately above her nasal tip. This complication results when the nasal tip is inadequately supported following rhinoplasty surgery. Dr. Thompson recommended revision rhinoplasty with support of the nasal tip and widening of the patient's nasal airway. Following surgery, the patient has a more natural nasal contour as well as improved breathing.